IFEX AND 71ST INDIAN FOUNDRY CONGRESS OPENS IN NEW DELHI
Time:2023-02-13   Hits:150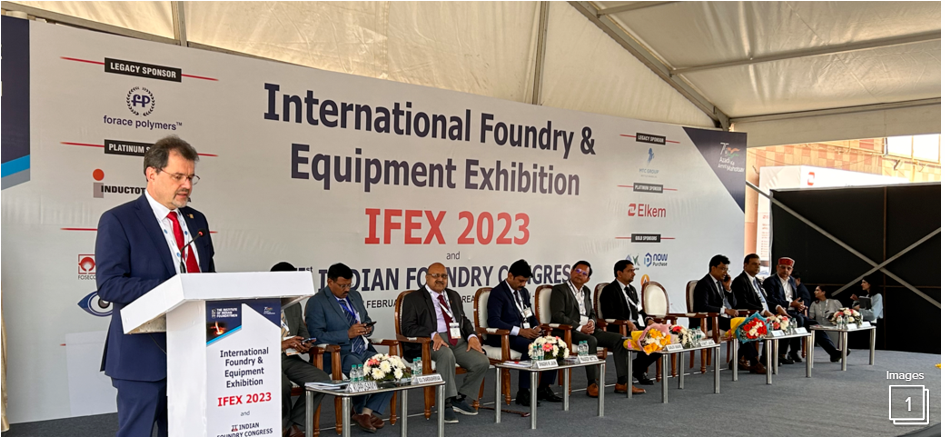 WFO President Dr. Carsten Kuhlgatz praises the good partnership
In his welcome address, World Foundry Organization President Carsten Kuhlgatz expressed his respect for the development and size of the current event.
Kuhlgatz is well known and networked in India from his operational time at Hüttenes-Albertus and GARGI HA in India and knows the conditions and development in India very well.
The fact that this year even a third hall will be occupied in New Delhi Greater Noida shows the great interest and the desire of all participants to meet again in person after Covid and is a good sign for the representation and the position of the Indian foundry industry. Kuhlgatz thanks the organizers for the ideal opportunity to meet with hundreds of delegates and experts from the industry.
India is in the top 3 casting producing countries and has had 4 WFO presidents.
Equally important with IFEX is the impact of the 71st Indian Foundry Congress IFC, which is being held simultaneously supported by the World Foundry Organization and co-organizer the WFO Technical Forum.
Kuhlgatz describes India and the IIF as an important part of the WFO. The IIF has been a member of the WFO for more than 80 years, has provided 4 WFO presidents with Fais Jasdanwalla, Soli Commisariat, Pravan Bhagwati and Vinod Kapur.
India is now one of the top 3 foundry producers in the world and has hosted the World Foundry Congress twice, in 1987 and 1998.
Furthermore, the support and alignment with the global industry is well respected and this means that the strength and growth of the industry also comes from mutual learning and development, for example with organizations like the WFO.
This brings the WFO president quickly to one of his main topics:
The future of the foundry industry and the people who work there.

Young Researcher Conference
For this conference, the WFO will for the first time use a digital conference platform to give young researchers an adequate stage to present their work.
For this event, the call for papers is almost closed (until 15.02.2023), now the registration of participants and exhibitors and the. Implementation.
The best videos of the young researchers will then be presented on the conference platform on 18 April 2023 and can be accessed worldwide regardless of time zones.
The three best presentations will be awarded a prize by a jury and will receive an invitation to GIFA 2023 in Düsseldorf to present their work there.